Dear students in Environmental and Land Planning Engineering
The IAT@WORK meetings give the chance to our students to meet Environmental Engineers who graduated with us at Politecnico di Milano a few years ago and are now working in the field. The goal is that of sharing experience and ask questions about the career.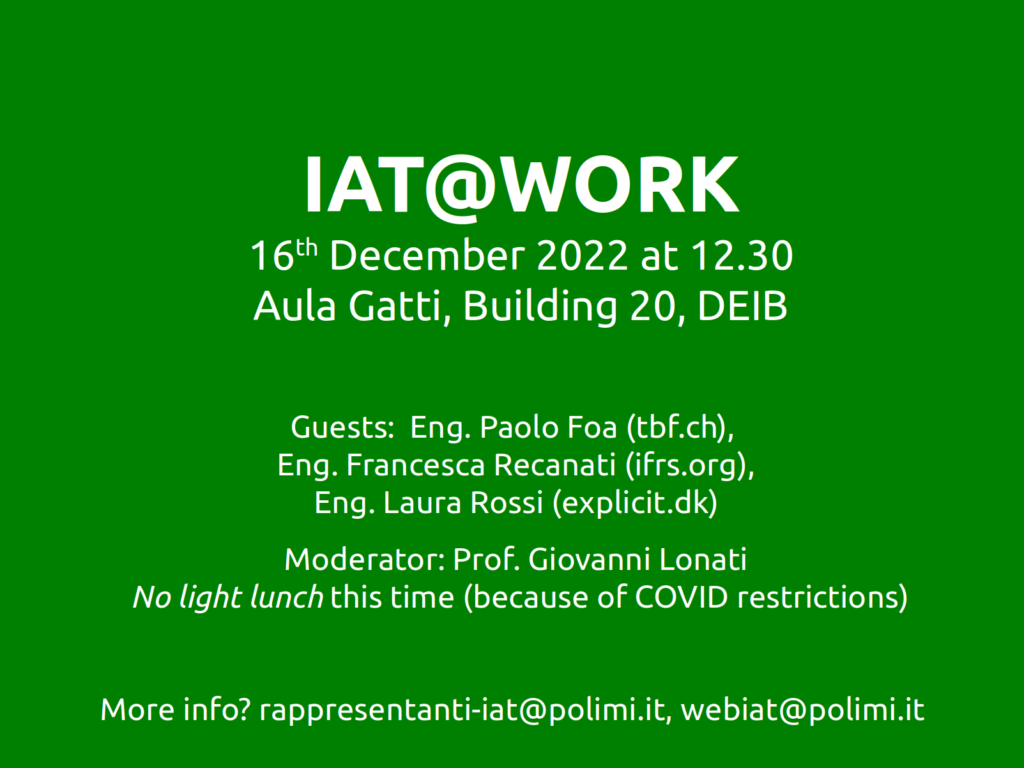 You are therefore kindly invited to participate to the seventh meeting that will take place
Friday 16 December 2022 from 12.30 to 13.45 in Aula Gatti, Building 20, DEIB (where is it?)
Online on CISCO WEBEX: https://politecnicomilano.webex.com/meet/renato.casagrandi
We will meet three environmental engineers who work abroad, in particular:
Eng Paolo Foa (Class of 2009, Head of tbf.ch office, in Lugano, CH)
Eng Francesca Recanati (Class of 2013, Engineer at the International Sustainability Standards Board, ifrs.org, Berlin)
Eng Laura Rossi (Class of 2021, Project Manager at Explicit.DK in Virum, Denmark)
The moderator is Prof. Giovanni Lonati
Because of COVID, even this time there will not be any lunch together — hopefully next time!
For more information, mail rappresentanti-IAT@polimi.it, webiat@polimi.it